WEDNESDAY, November 2nd, 2011
The Beacon
950 W Manchester Blvd.
Inglewood, CA 90301
map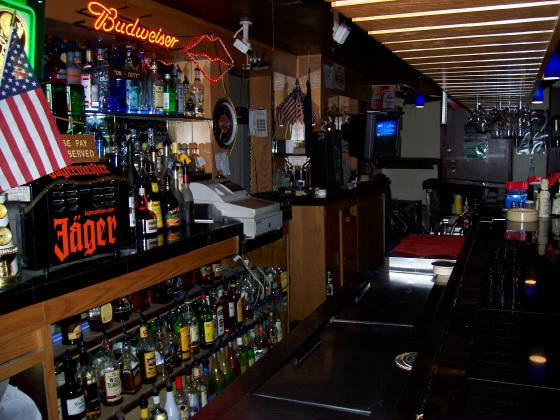 If there were a bar where the bulk of the patronage is probably relaxing after emptying a few clips at the gun range down the street or at the Randy's donuts a little further down the street, it would probably be called The Beacon.
Located on the north-western edge of Inglewood, minutes from LAX, The Beacon stretches the traditional boundaries of the Tour, but it does so for good reason. It's cheap — this is a dive bar economy. It's filthy — no good dive passes health inspection with flying colors. The people inside have no teeth and smell like ashtrays (at least the ones there when they open for lunch do). And you won't find a more hospitable place to spend a layover, drown a lay-off, or get laid back for miles.
There's plenty of fun to be had here for under $10. Enjoy a $3.25 macro-brew to the sound of billiard balls cracking and the din of 747s touching down in the distance. The Beacon's squalid interior is complemented by its drab and weathered exterior in the midst of a derelict neighborhood of 1-story commercial tenements. What a perfect place for a dive bar! Street parking is ample. They may or may not take credit, so come with cash in hand. There are no ATMs within walking distance.
As usual, the casual debauchery starts around 9PM and gets really interesting by 10:00. Come for one drink, or stay for one too many. Bring anyone and everyone, and join us for a great time in the middle of the week. If you arrive early or late, look for the people having a damn good time (it'll be us), or start having a damn good time on your own (we'll find you).
Carpe Drink'em,
Damien & Curtis; hosts
for The World Dive Bar Tour Executive Committee